[three_fourth]
INHERITOR OF SANATANA HINDU DHARNA
His Holiness Paramahamsa Nithyananda was coronated in January 2013 as Mahamandaleshwar of the renowned MahanirvaniPeeth (MahanirvaniAkhada), the world's most ancient apex body of Hinduism. Already recognized as a powerful crusader for integrated Sanatana Dharma, Paramahamsa Nithyananda brings to the role a new vigor and vitality, while drawing strength from the Akhada's vast network and solid spiritual base.
A GLORIOUS HERITAGE
Sanatana Dharma (known in modern times as Hinduism) boasts a glorious history of tens of thousands of years.  Hinduism is known for its tenets of religious tolerance and harmony. Yet this oldest living religion in the world is also known to powerfully uphold its principles and defend itself against destruction or degradation by other invading religions.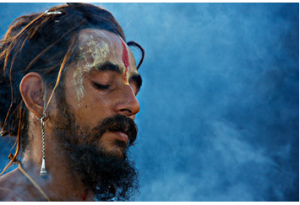 NAGA SADHUS – PROTECTORS OF THE DHARMA
Over the centuries, with the tides of time, other religions rose to oppose Hinduism and even acted as a threat to its survival. Through all these times, a small sect of Hindu monks continued to act as the spiritual warriors of the faith, their purpose being 'dharma raksha' (protection of Dharma). These monks were known as 'naga sadhus' ('naked philosophers' or 'naked saints'). Breaking free of every limiting social conditioning, including clothes, this fiercely integrated and authentic group ranks among the most respected of Hindu sects to date.
KAPILA MAHAMUNI – FIRST SAINT OF THE NAGA LINEAGE
Naga sadhus trace their lineage to KapilaMahamuni, an enlightened saint who assumed the body more than 7000 years ago. Kapila Mahamuni was the first human being who experienced the flowering of divine consciousness while still in the human body. Naga sadhus follow the oldest monastic tradition in the world, and are even mentioned in Rig Veda, a scripture that dates back to 5000 B.C.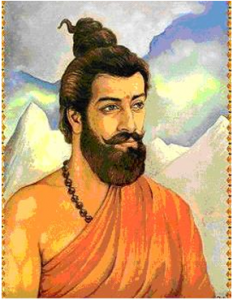 LIFE OF THE NAGA SADHUS
The life of the naga sadhus is one of courage, freedom and extraordinary discipline Naga sadhus have powerful bodies that can tolerate extremes of temperature. Their only protection against cold is the vibhooti (sacred ash) they apply freely all over the body.
Most naga sadhus wear rudrakshmalas and an iron bracelet (kada), and carry a damroo (a small drum) and a kamandalu (water pot). Their only other adornments are weapons of defense, which are  part of the akhada culture and are worshipped every day.
Naga sadhus can be identified by their holy trishul (Shiva' trident), staff, sword, conch and other musical instruments.
MADHIS OR TEMPLE CENTERS – FORERUNNERS OF THE AKHADAS
As the naga sadhus grew in number to tens of thousands, they began forming groups known as 'madhis'.
All the saints of various madhis in one geographical location would gather together to do arms training (shastra-training) without any differences. Since various madhis were working together as one group, this group was called 'akhand' or 'united', a term which became the now popular 'akhada'.   The first akhada to be established was the Atal Akhada, followed by the AwahanAkhada and MahanirvaniAkhada. Today, there are 13 akhadas in Haridwar, each of them headed by a highly revered Acharya Mahamandaleshwar, who is supported by a number of Mahamandaleshwars.
MAHANIRVANI AKHADA – A 10,0000-YEAR-OLD HERITAGE
While the heritage of MahanirvaniAkhada is ten thousand years old, the group was formally named in 748 A.D. after a very auspicious happening.
In 748 A.D., a group of seven sadhus of Atal Akhada performed tapas (intense spiritual disciplines) at a place called Gangasagar. They were graced with the darshan (divine vision) of saintKapilaMahamuni himself. With his blessings, they revived the naga tradition with an official name – MahanirvaniAkhada – near Neel Dhara in Haridwar.  Even today, the chief deity (upaasyadev) of the MahanirvaniAkhada is the legendary saint KapilaMahamuni.
CARRYING THE TORCH OF FAITH
The most recent inheritor of this glorious legacy is his Holiness Paramahamsa Nithyananda, who was coronated as spiritual head of MahanirvaniAkhada in 2013. Having assumed the body in the sacred pilgrimage destination of Arunachala in southern India, Nithyananda mastered every dimension of Sanatana Hindu dharma at a young age, excelling equally in yoga, Vedanta, Hindu rituals and ancient mystical sciences. After his first experience of enlightenment, the young Nithyananda spent the best part of his time in scripture study, worship and deep meditation.   At the age of 17, Nithyananda left home as a parivrajaka (wandering mendicant). He traveled the country, studying with various teachers. He was initiated into sannyas in the Dashnamisampradaya and received the title 'Puri'.
On 1st January 2000, he had the initiated into sannyas in the Dashnamisampradaya and ultimate spiritual experience which awakened him to his Avataric mission on the planet.
As part of his spiritual mission, he has established over a hundred temples and meditation centers worldwide.
As a sannyasi of the Puri sampradaya, Nithyananda has initiated hundreds of his disciples into the ultimate life of brahmacharya, vanaprastha and sannyas.
MAHANIRVANI AKHADA TODAY – SPREADING THE DHARMA
Today, with India's independence, all the akhadas, including MahanirvaniAkhada, have turned to actively spreading Sanatana Hindu dharma, preserving and reviving ancient Indian culture, lifestyle and philosophy. Today, their activities are aimed at social service and spreading the Hindu dharma.
Historically, Prayag (Allahabad) has been the center and headquarters of MahanirvaniAkhada since its formation, and Varanasi has been the seat under Prayag administration.  Later, Kankhal in Haridwar became the second administrative seat and now is most important seat with most of the administrators based there. Omkareshwar and Nasik are the other two administration seats. The branches of MahanirvaniAkhada are located at Omkareshwar, Nasik, Harídwar, Kurukshetra, Udaipur, Jwalamukhí, Kashí and Bhar (Akola).
MAHANIRVANI AKHADA ADMINISTRATION
The spiritual head of MahanirvaniAkhada is known as Acharya Mahamandaleshwar. He is elected by the Mahamandaleshwars of the akhada, and his is a lifetime position.  Currently, MahanirvaniAkhada has 46 Mahamandaleshwars. Apart from this, there are administrative positions like Sachiv (secretary), Sri Mahant, Mahant, Karobari / Kothari and Thanapati / Thanedar.
The top administrative body of the Akhada is Shree Panch (the body of five) also known as Pancheshwar, representing Brahma, Vishnu, Shiva, Shakti and Ganesha. This body is usually elected every KumbhMela by a unanimous decision of senior Akhada members.
VISION FOR A VIBRANT FUTURE
With His Holiness Paramahamsa Nithyananda taking the responsibility of Mahamandaleshwar with the blessings of the elders of the akhada, the future looks bright for integrated Sanatana Hindu Dharma and the world itself.
Paramahamsa Nithyananda envisions an enlightened civilization that strives for personal fulfillment and global advancement, while remaining strongly anchored in the spiritual truths that have made Santana dharma the oldest living religion in the world.
[/three_fourth] [one_fourth_last]



[/one_fourth_last]